Mesmerizing
Beautiful
and Functional
Handcrafted Copper Sprinklers
Our Garden Art Sprinklers are simply mesmerizing to watch!
Inter-playing whirling and twirling arching sprays of water emanate from twin spinning copper hoops, which enclose a colorful and vibrant glass ball wrapped in a copper spiral. As the two copper hoops spin, they independently counter-rotate, seemingly changing direction creating a whimsical and alluring optical illusion. Kinetic, dynamic and amazing to watch!
These attractive hand-crafted ornamental copper lawn art pieces are also a fully functional watering device, and add a dimensional decorative beauty and presence to your garden year-round.
They're pretty! They look good at rest or at play!
The most Premium artisan garden and lawn art sprinkler available!
Over 2,800 sprinklers sold since 2006
Imagine one in YOUR garden or yard!
Many stunning colors to select from
Every order includes Free UPS Ground Shipping*! Each copper sprinkler is a unique and beautiful compliment to your landscape, adding dimension and function as garden art. Its whirling spray pattern has a coverage 12' - 25' wide (depending on your water pressure) and is gentle on plants. At four feet tall its water reach is above many lower plants. It attaches easily to your hose and is quick and simple to relocate around your garden or yard year round. (*continental US and Canada)
Handcrafted in Washington State, USA
Artisan Copper Garden Sprinklers
Made of quality copper, brass and steel, with a colorful glass ball wrapped in a copper spiral, each sprinkler is long lasting and will provide a gentle watering and visual pleasure for years.
Colorful Blown Glass
Many colors to select from in opaque or transparent styles. Glass colors will not fade over time. Pair your color to compliment or contrast with your plants and other garden art.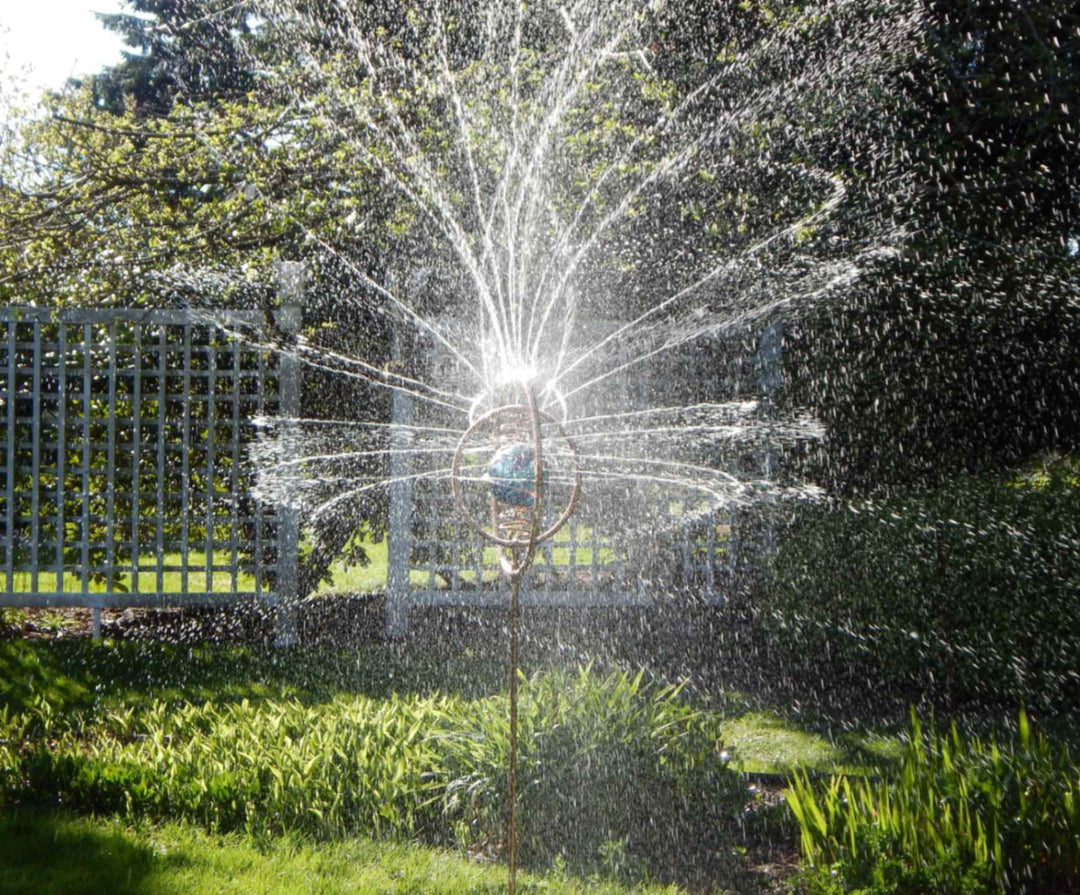 Whimsical to Watch
The ever changing water spray coupled with the two counter-rotating copper hoops and copper spiral  makes for an attractive visual display while being an effective watering device for all plantings.  
And for Play Too!
Whether young or old, two-footed or your four-footed furry friends, everyone loves to run through a sprinkler on a warm day.